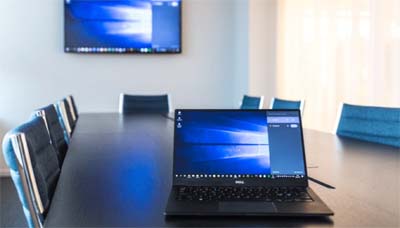 Download Airtame 2 application for your device.
There are two ways to download the Airtame application.
Option One:
Download location on web is: https://airtame.com/download/
Option Two:
Go to the R drive look in folder named: "Airtame2". Note: Some devices have to go to their respected App Store to download this app which is a free App.
Copy the Airtame exe to your device. Ex: desktop
The downloads are zipped, so you will have to unzip them. Left double click the Airtame 2 App executable.
Type in the 4 numbers that are showing on the TV in your room.
Left click on "Share Screen".
When done please left click on "Quit" located at bottom right on your screen.
Pin Code Connect
Pin Code Connect, is an easy way to ensure that no one outside of the room can stream to Airtame. Pin Code Connect, Airtame will require users to enter a random 4-digit pin code in order to start a stream. The pin code will appear on your TV or projector screen, which you then type into the Airtame app.
Current locations with Airtame devices:
Broyhill Fellowship
Belk Auditorium
Blackwell – Peterson Conference Room
Broyhill Chapel
CETL Renfro
Cornwell Hall 206
Day Hall 3rd Floor Hall TV
Day Hall 201
Day Hall 202
Day Hall 203
Day Hall 205
Day Hall 301
Day Hall 303
Day Hall 304
Day Hall 305
Ferguson Math & Science 135
Ferguson Math & Science 148
Owen Theater
Wall Science 103
Wall Science 109
Wall Science 202
Wall Science 220
Wall Science 422
Wall Science 413
Wall Science 415