On Sunday August 26th all MHU student email accounts will be migrated to Microsoft Office 365. This process should be mostly transparent and your MHU.EDU email address/password will remain the same. However, there are a couple of things that you need to be aware of.
After your mailbox is moved you may still use the links on the MHU webpages to access MHU Webmail but it will be a two-step process that requires you to enter your logon information twice.
Once you have logged into Webmail you will receive the message shown below directing you to the MHU Office 356 logon page. You will then be prompted to logon again using your FULL MHU EMAIL ADDRESS and current password.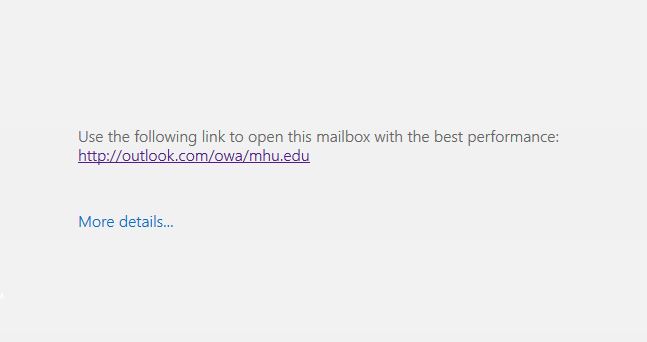 Be sure to use your full MHU email address!
To bypass this double logon you may go directly to https://portal.office.com and logon with your MHU email address and password. This will give you direct access to your email along with the MHU licensed versions of Microsoft Office 365 on-line applications.
Your O365 applications are already licensed and active if you would like logon to the portal and get familiar with them but your MHU O365 email will not be available until after the move is completed on 08/26/2018.
Please be aware that this move will take several hours to complete.
Please contact the ITS helpdesk at 689-1444 or helpdesk@mhu.edu if you have problems.